Thank you to the many (~3,200 and counting) that have responded to the recent 2021-2022 Ramax Search Client / Candidate Engagement Survey. Over the next several weeks, we will be highlighting some of the data and sharing some of the valuable insights that we have gathered.

For today, I wanted to take a closer look into the question "Where the market stands from a hiring perspective"? The question asked in the survey: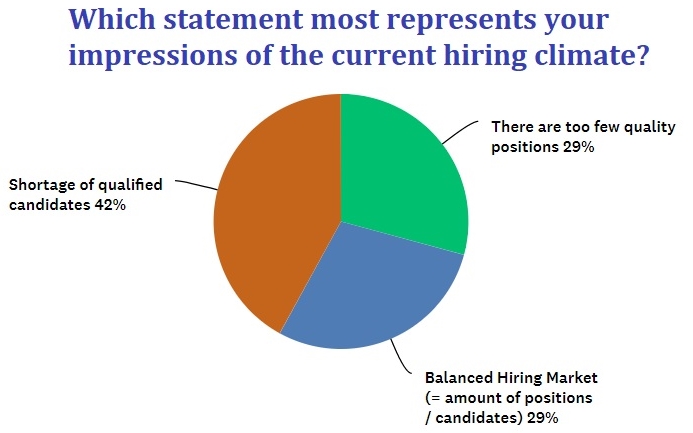 While a rather simple question in asking, this answer reveals the growing shift amongst hiring professionals as to where the market is. This same question asked in our 2019 survey (pre-pandemic) skewed much more towards "fewer quality positions". As a point of reference, over 90% of respondents work in some capacity within Financial Services (alternative investment, banks, venture, fintech, etc…).
I think we can all agree that overall, the financial services sector is quite healthy and market indicators bode well for the foreseeable future, which explains for increased staffing levels. What requires the deeper dive are the questions "Why is there such a perceived shortage of candidates"? AND What can we do about it from a hiring perspective?

Is there really a shortage? While the number of vacant positions at companies is certainly up, I would like to propose that there is not a shortage of talent, but rather the market has not fully adapted to the new realities. Trying to hire in exactly the same manner as we did several years ago is a recipe for failure. When the market was "tighter" we became very accustomed to being able to select only the choicest of candidates, conduct extended interview periods, and dictate terms that suited our needs as hiring managers. It is time to change.

Competition for top candidates is so much fiercer in 2022, yet we are conditioned to believe that all we should be interviewing / hiring are the "best of the best". While I would never suggest client's hire sub-par talent, more often than not, the "very good" will suffice rather than only seeking excellence.

Shortening our interviewing / hiring cycle is another effortless way to help narrow the gap. Candidates grow fatigued the longer a process wears on. We recommend that our clients keep all hiring processes under 3 weeks for non-senior positions and no longer than 2 months for senior level executives. Statistics show that the longer a process goes, the more likely you are to lose an interested candidate.

Lastly, compensation has changed so dramatically over the past couple years, not only in terms of salary and basic benefits, but more specifically in many of the ancillary enhancements that your competition may be offering (work/life balance, hybrid work, profit sharing plans, etc…).

We recently were engaged by a client seeking to hire a non-C Level leader for one of their departments. While going through the interview process, it became clear that they were not going to be able to hire at the compensation level that they initially thought. However, if they increased the pay scale for the new hire, it would require elevating 10 other employees that are at a similar level, which of course opened up a slew of other issues.
Recognizing the realities of today's market will make the hiring process much smoother and help to eliminate such scenarios. We recommend conducting ongoing reviews of your hiring practices (including compensation benchmarking) to make sure you and your organization are maximizing your hiring potential and adapting to the "new normal".
Feel free to reach out directly to discuss this topic further as well as any other questions or concerns regarding the current hiring climate.  I guarantee that in our call together you will leave with 2 or 3 ideas that will greatly impact your ability to find, attract, and procure the top 10-15% of the candidate pool on a consistent basis.